UISEE Autonomous Logistics Solutions Help Hsu Fu Chi Build Intelligent Factory
Date: 2021-06-15
Views: 1387
The autonomous logistics vehicles developed by UISEE have been put into operation at Hsu Fu Chi's production base in Dongguan, Guangdong Province, responsible for the transport of food ingredients in the factory area. This signifies that UISEE and Hsu Fu Chi have teamed up to explore the application of autonomous driving technologies in the food industry.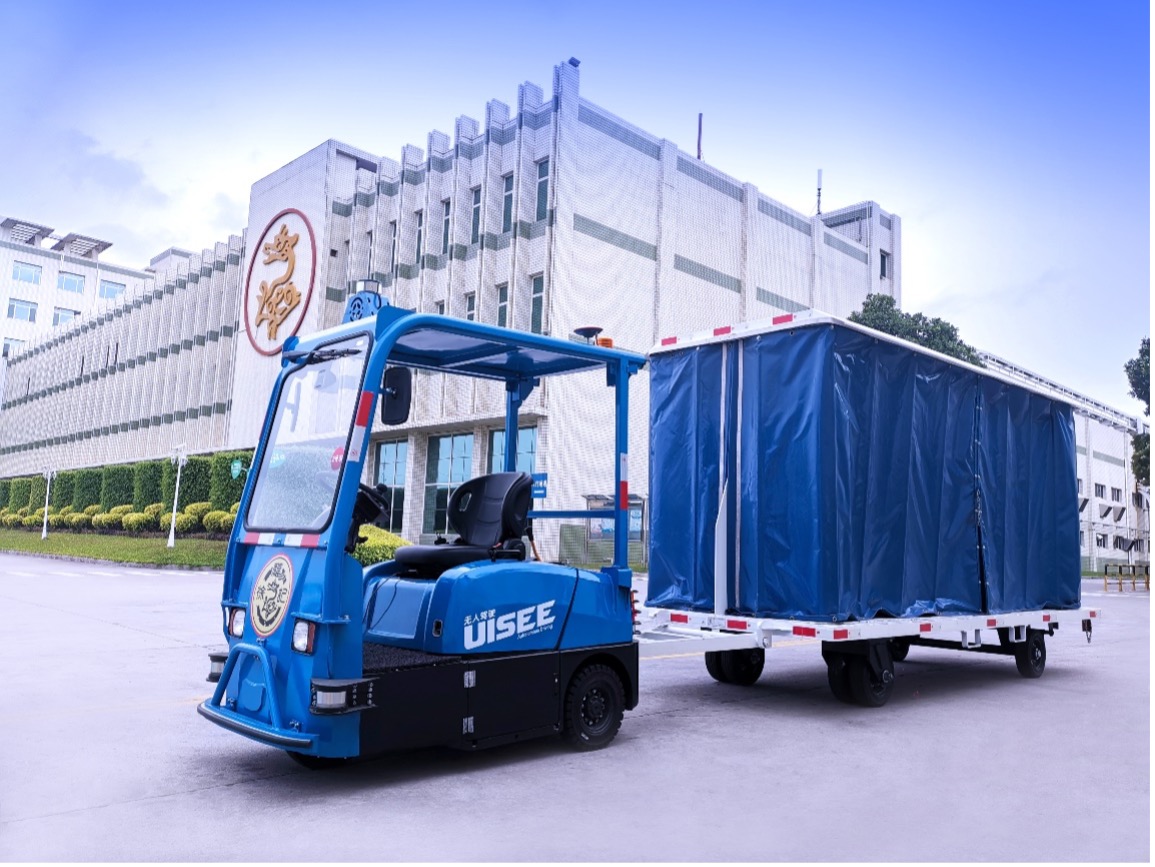 Hsu Fu Chi is a famous snack food company in China. Since 2017, it has started corporate transformation and upgrading with respect to automation, digitization, and intelligentization, while tapping into intelligent manufacturing with new technologies. Dongguan is home to the company's leading production base with a floor area of more than 500,000 square meters. The production base produces over 1,000 kinds of loose-packed and packaged sugar snacks such as candies, cakes and pastries, caramel treats, chocolates, and jellies. Its daily production capacity exceeds 1,500 tons.
The transport of raw materials, semi-finished products, finished products and other materials within the workshops of traditional food factories is usually dependent on manual work. Moreover, the labor intensity in the workshops is high, with the working efficiency and accuracy there unable to be guaranteed and the manual operation of vehicles in such factories exposed to high safety risks.
Manual Operation Workshops
UISEE autonomous logistics solutions delivered to Hsu Fu Chi comprise autonomous logistics vehicles as well as a powerful cloud-based intelligent operation and management system. The autonomous logistics vehicles are built on the U-Drive® intelligent driving platform independently developed by UISEE. Each of them is equipped with an in-vehicle intelligent driving controller. By integrating the perception data generated by a variety of sensors deployed around the vehicle body such as lidars and cameras coupled with core algorithms for autonomous driving, the vehicles deliver safe and stable autonomous transport in the factory area. The cloud-based intelligent operation and management platform contributes to multi-vehicle collaboration, dispatching, and remote monitoring in a fleet of autonomous vehicles, not only cutting labor costs but also greatly improving the efficiency and safety of logistic operations.
Vehicles designed for autonomous logistics do not require human drivers or safety inspectors, and no environmental modifications are necessary. Such vehicles can cope with complex scenarios in factory material transport. This technology has been widely used in multiple scenarios like airports, automobile manufacturing facilities, and logistics parks.
The introduction of autonomous driving technology in the food industry will fundamentally enhance production efficiency. As a pioneer of large-scale commercialization of autonomous driving solutions in China, UISEE seeks to develop and popularize more efficient, safer, and more economical logistics transport technologies for the industry. The cooperation sets the stage for UISEE and Hsu Fu Chi to further accelerate the intelligent factory construction while accelerating the food company's progress in intelligent manufacturing.