UISEE and Quickhigh Robot Jointly Release Overall Solution for Multi-Industry Intelligent Logistics
Date: 2021-08-12
Views: 729
On June 29, UISEE and Shenyang Quickhigh Robot Application Technology Co., Ltd. (Quickhigh Robot) signed an in-depth strategic cooperation agreement and released an overall solution for multi-industry intelligent logistics based on their advanced technologies, providing customers with flexible and stable product solutions and supporting services while flexibly and efficiently responding to business needs in different scenarios.
Strong Alliance Creates Industry-Leading Overall Solution for Intelligent Logistics
The partnership allows UISEE and Quickhigh Robot to complement each other, integrate star products, open up system interfaces, and jointly improve applications such as intelligent logistics storage, indoor and outdoor full-process autonomous transport, and intelligent dispatching system, among others, offering an overall solution for multi-scenario intelligent logistics with leading cost, complete functions, good flexibility, high efficiency, and stable system. Together, the two companies will deliver greater values to customers while empowering global enterprises to quickly realize the upgrade of autonomous logistics in factory areas and industry parks.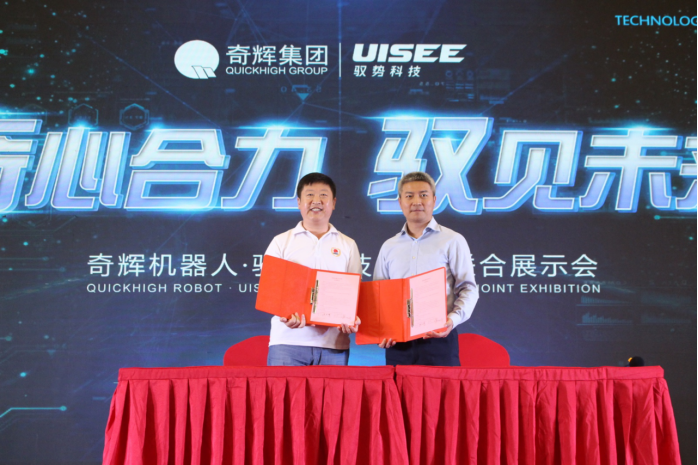 Innovative R&D Improves Autonomous Logistics Efficiency in Indoor and Outdoor Transport
Both UISEE and Quickhigh Robot have strong research and development (R&D) teams and comprehensive technical capabilities. The strategic cooperation allows the two companies to jointly invest in R&D and carry out in-depth cooperation in the construction of indoor and outdoor integrated intelligent logistics system. Through complementary product advantages, technological innovation, and market resource sharing, they will promote the large-scale application of autonomous logistics vehicles, while bridging indoor intelligent storage and outdoor autonomous transport to realize indoor and outdoor logistics through autonomous, digital, and integrated operations, helping enterprises comprehensively improve their efficiency in storage, transport, and distribution.
Intelligence Leads to New Breakthroughs in the Upgrade to Intelligent Logistics in Factory Area
In recent years, Quickhigh Robot has focused on developing the intelligent logistics equipment and intelligent storage equipment business and implemented intelligent transport and intelligent logistics transport in many renowned projects such as Volkswagen FAW Engine Intelligent Logistics and Mitsubishi Engine. Its intelligent storage equipment plays a leading role in indoor storage logistics and industrial logistics. Since its establishment, UISEE has focused on the R&D of autonomous driving technology and has rich experience in commercial project operation. In cooperation with Hong Kong International Airport, the company landed the world's first autonomous logistics project with regular operation, and also helped leading enterprises such as SAIC-GM-Wuling, FAW Logistics Co., Ltd., and Changan Minsheng APLL Logistics Co., Ltd. realize completely autonomous material transport in the factory area, becoming a leader in outdoor autonomous logistics.
At the event, both parties demonstrated the application of indoor and outdoor logistics transport in tandem. With the help of UISEE autonomous logistics technology, they made a breakthrough in the long-distance outdoor autonomous transport scenario and realized the upgrade of full-process autonomous factory logistics from infield transfer to cargo stacking to outbound loading to off-site transport to fixed-point unloading.
Gansha Wu, Co-founder, Chairman and CEO of UISEE, said: "With the advent of AI and 5G era, intelligent logistics related enterprises will usher in an unprecedented broad market space. We're pleased to reach a deep strategic cooperation with Quickhigh Robot, which marks the beginning of a new market pattern. We believe that the two sides will jointly explore the development path and empower global enterprises to build an intelligent new future through partnership and win-win collaborations in product schemes, R&D resources, and market expansion. "
Hou Wenqi, Chairman of QuickHigh Group, said: "The future leads to an intelligent era, which means that intelligent equipment will be more widely used in logistics, storage, and many other industries. Relying on the regional advantages of the national high-end intelligent equipment manufacturing base, QuickHigh Group continues to develop and innovate. Through in-depth strategic cooperation with UISEE, a strong alliance is formed, allowing both sides to complement each other in products and resources and work together for the future.