UISEE Multi-sensor Data Fusion Software Has Passed ISO 26262 Functional Safety Certification
Date: 2023-02-02
Views: 1217
On February 2, UISEE received the ISO 26262:2018 ASIL D Level Functional Safety Product certification granted by TUV Sud, an international third-party testing and certification agency. This certification proves that UISEE's multi-sensor data fusion software meets the highest level of ISO 26262 Automotive Safety Integrity (ASIL) functional safety requirements, fully demonstrates UISEE's continuous exploration in the field of autonomous driving safety, and builds a solid compliance foundation for the safety application of multi-sensor data fusion technology.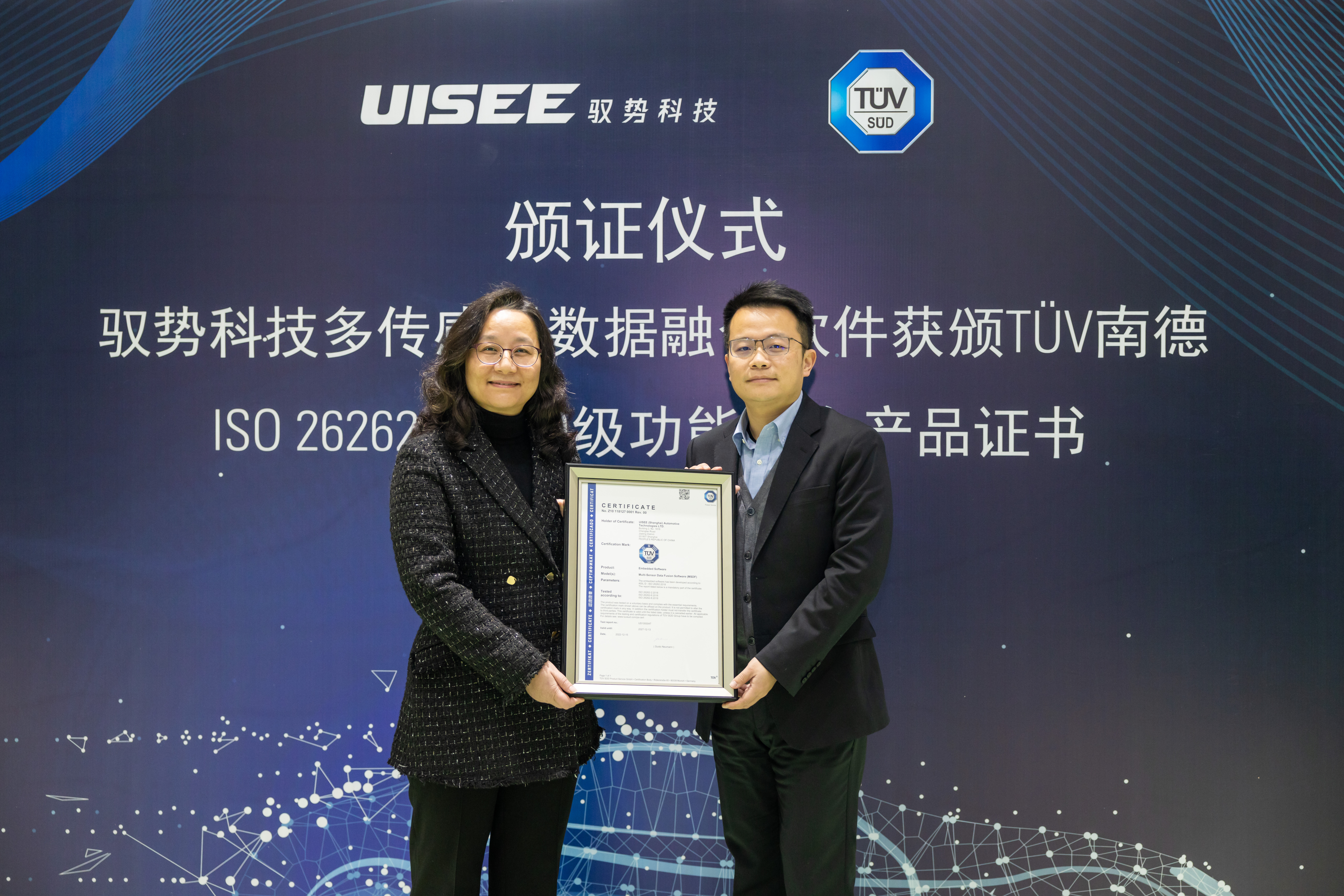 Safety First Is The Core Concept Of Autonomous Driving
Smart cars have boomed in recent years, with a geometric increase in the amount and complexity of software installed on them. With the implementation of high-level autonomous driving, the importance of software has been further established, indicating that the traditional automotive electronic and electrical architecture has gradually failed to meet the in-car data transmission, perceptual computing, software upgrade and other functional and performance requirements, the vehicle architecture has been redefined, and the industry has experienced the evolution from superficial hardware to deep software. Entering the era of "software-defined vehicles", the connotation and extension of automobile safety are constantly changing. New technologies bring new opportunities for the development of the industry, but also face the quality challenges brought by the digital revolution.
ISO 26262 Functional safety standard is currently quite cutting-edge standards, mainly located in the automotive industry specific electrical parts, electronic equipment, programmable electronic devices and other components specifically applied to the automotive field. This standard covers activities related to functional safety management, conceptual stage design, system, hardware and software design and production in the automotive product safety life cycle. It aims to ensure that the functional failure of safety-related electronic products will not cause dangerous occurrence through the guidance of standardized technical specifications.
In addition, ISO 26262 classifies systems or system components into Safety requirement levels from A to D, namely ASIL (Automotive Safety Integrity Level), based on the degree of safety risk. The higher the security risk level, the higher the functional security required for the design. ISO 26262 is now recognized as one of the industry's compliance thresholds.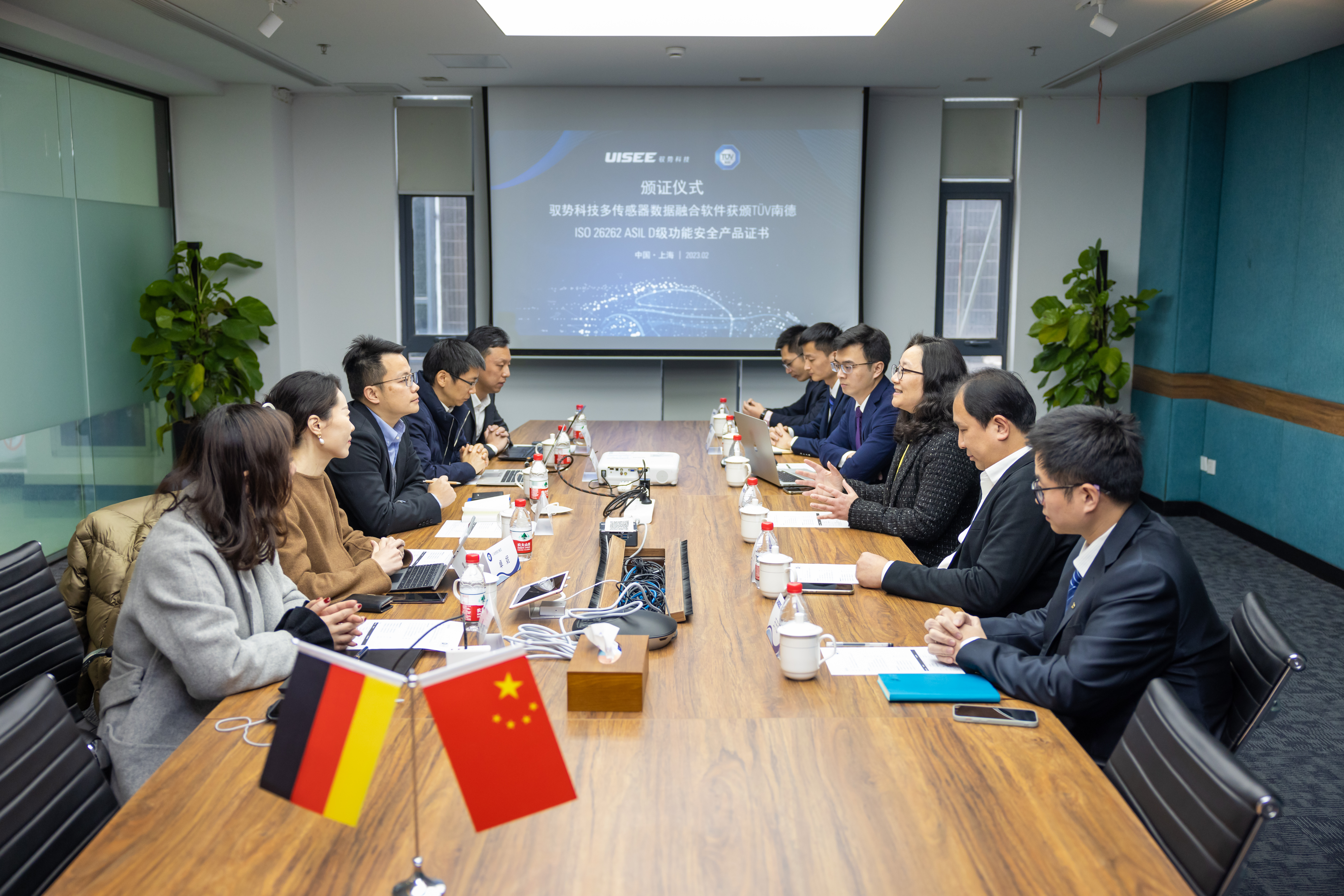 As a pioneer in the field of autonomous driving in China, UISEE has always placed the safety of autonomous driving in the first place of innovation and research. As early as January 2020, UISEE has begun to prepare for this certification, through the joint efforts of the team, gradually established a perfect product research and development system in line with automotive functional safety standards, and officially passed the certification in December 2022.
In the future, UISEE will continue to follow the mainstream international standards of automatic driving safety, continue to make efforts in expected functional safety, network information security and other aspects, and actively participate in the formulation of relevant standards of automatic driving safety, establish a safety system of the whole process, and make automatic driving more safe and reliable.